Monday, January 15th, 2018
Day 71: Havelock to Pelorus River Camp, 22km
Man I must have been tired because I slept until 9:30 today! Which would have been totally great had it not been for the grumpy woman running the holiday park who was less than kind about us being late out of the room. To her dismay, Matt managed to quickly cook bacon and eggs, which we devoured quickly before she could find another chance to be a rude, crusty beyotch. Honestly, some holiday parks aren't super keen on hikers so the vibe can be a little weird. Anyway, we got out of there as quickly as possible and lugged our obscene amount of food up the post office. We shipped our massive resupply boxes off to St Arnaud and Arthur's Pass, putzed around town for a bit, grabbed a Gatorade and ice cream cone from the store, and hit the road. We only had to walk three kilometers along the highway before turning onto a much quieter, remote paved road. If you keep your eyes open on the side of the road, you can snatch all the delicious, ripe, wild blackberries straight off the vine. There always seems to be some kind of tasty fruit lurking around in the bushes here.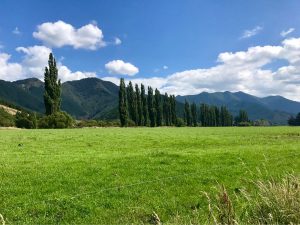 Eventually the road hits a stile leading you through pastures and whatnot for a few kilometers before hitting a forested track to Pelorus Bridge. The crickets in that forest were absolutely out of control loud, which we thought might hinder our ability to sleep! So we continued to the campsite, begrudgingly paid to set up our tent, said hi to the growing family of TA hikers, cooked dinner, and passed out.
Tuesday, January 16th, 2018
Day 72: Pelorus River Camp to Captains Creek Hut, 21km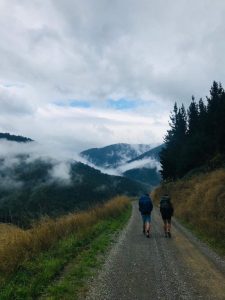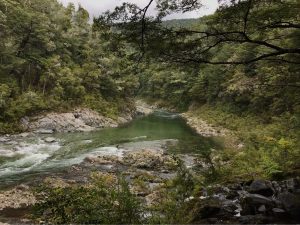 The first half of today was spent cruising along a gravel road by the river until reaching a chill, leisurely track that led straight to Captains Creek Hut. We tried stopping for a snack break, but within 3 minutes the Sandflies were swarming. I have heard about the Sandflies being bad on the south island, but I really had no idea exactly what to expect. By the time I reached the hut I was dripping from the humidity, and very ready for a swim in the river. The Pelorus River is an amazingly clear river with light blue water, and very enticing for swimming. We walked down to the river, and as soon as I took my clothes off, there were hundreds of Sandflies everywhere! I was so shocked that I quickly dunked in the water, grabbed my pack and ran butt naked into the hut. If the little fuckers didn't bite, I might not have cared as much, but history has proven the devilish black insects to leave behind a painful, super itchy, nasty wound. I definitely think I'm somewhat allergic, so I was not fucking around when I decided to take yet another Deet bath and layer up. I know Deet is a nasty poison that will burn through your clothes, and most certainly can't be healthy to put on your skin, but I also know that the chemical keeps the bugs from biting me so I'll do whatever I gotta do! I'm definitely going to have to find ways to adjust to the insanity or I might not make it down this island! Every time I went outside, there would be Sandflies swarming me within seconds, so I chose to spend the afternoon reading Animal Farm, which somebody had left behind. We had been the first ones to arrive, but over the course of the evening at least 12 other TA hikers showed up and started building tent city outside. I was glad to have space in the tiny hut for no reason other than the bugs, but did have to pop outside every now and then for fresh air. Eventually bedtime rolled around, I took one last breath of fresh air, then crawled into the stuffy hut and passed out.
Wednesday, January 17th, 2018
Day 73: Captains Creek Hut to Rocks Hut, 11km
Apparently the forecast includes multiple days of rain, and the particular sections of trail coming up can become impassable during heavy rain due to flooding. So everyone has the same idea to kick it at a hut and wait out the rain. That said, the huts have limited space and everyone clearly wants a cozy spot inside, so I was not surprised to see tent city had been completely deconstructed by the time I awoke. Unless I know there's a long distance to cover, I'm really never in a hurry to get moving in the morning so I'm pretty used to being the last one out of camp. The short walk to Middy's Hut was along a basic trail next to the river. Rock's Hut was another five kilometers of actual uphill during which I got stung by a wasp and the rain started up. By the time I reached Rock's Hut, I was very wet and very excited to get into the hut where I could smell a warm fire burning. Since our plan was to hitch into Nelson for a resupply, we decided to just stay at Rock's Hut upon realizing there's a mountain bike trail leading straight into town. Over the course of the afternoon, at least 15 more people showed up, all TA walkers. The hut sleeps 16 so we had more than a full house. Right after we arrived, the rain started falling and has only gotten worse so I understand why everyone is here! Nobody wants to walk around in torrential downpour if they don't have to. I was honestly a little overwhelmed with such a large number of mostly unfamiliar faces, and my stomach was acting up so I retreated to my bunk and spent the afternoon journaling. This one amazing woman, Anthie, let me use her crazy zapper thing that she uses to help with pains and aches so I played with it for awhile. She was hoping it would help my stomach, but I experimented with various leg muscles too. It has little sticky pads that you place anywhere that hurts, and the device sends out some kind of electrical current that supposedly helps your body to heal. I put the pads on my left quad and the whole muscle was pulsing around, the whole thing was pretty cool. Eventually dinner time arrived and I quietly ate some ramen in the fresh air of the porch under the roof, still protected from rain of course. There were too many people for me to really process what was going on. Matt and I have been mostly on our own up until now, so I need to start getting used to dozens of other hikers. It definitely is pretty rad though to actually see how many of us are in the TA game together. I chatted with Anthie for while which was awesome. She is a really amazing Australian woman who exudes confidence, warmth, and compassion, and does so with extremely genuinely. She works as a counselor which probably explains how well she encourages and engages in meaningful conversation. I'm a big fan.
Thursday, January 18th, 2018
Day 74: Resupply in Nelson, 40km
With the upcoming Richmond Range being a nine to ten day stretch between convenient resupplies, we made the executive decision to hike down to Nelson for more food midway through, rather than carry super heavy packs. To some this may seem like excessive walking, but I wanted to check out Nelson anyway. We could easily leave all of our gear at the hut and just carry empty packs. Any day without your pack is going to be a good day. Turns out there are a multitude of mountain biking trails leading from Rocks Hut straight into Nelson, so our plan was perfect. I was woken up around 5:30 to the rustling sound of hikers getting ready for the day, but managed to sleep a little longer. And when I woke up there were blue skies! In line with our usual fashion, Matt and I leisurely enjoyed our morning hut life, got hacked on coffee, hung out with the other twenty people, and set out for Nelson around 10:30. The first part of trail followed what was basically a flowing stream after the monsoon, and eventually led above treeline. There was quite a bit of fog still, but I was enjoying the exposure nonetheless. The track descended from the Coppermine saddle, contouring around the mountain side along a wide, groomed mountain bike track before reaching the Third House shelter. From Third House, we chose to walk up and over Jenkins Hill, which turned out to be a steeply undulating gravel road following a giant electric fence bordering a sanctuary of some kind. The last thousand feet were a ridiculously steep descent into the back of a holiday park. We crossed the river and began looking for a hitch into town. Some super nice guy in a truck picked us up and delivered us right at the Countdown. I ran into Hannah while grocery shopping, which might not seem that weird but the timing of running into one of the thirty people I know in this country is insane. Anyway, once I stocked up, I began my hunt to all the outdoor stores to see if anyone could help with my SeatoSummit pot that decided to crack and start leaking on me. SeatoSummit gear is enticing but really sucks. Don't buy it. They are, however, very helpful in replacing broken gear so I left Hunting and Fishing with a new, bigger, nicer version of my Xpot free of charge. It's honestly unnecessarily large, but I'm into it and it was free. Meanwhile I contacted my friend Tim who had picked up my Steripen that I left at the Havelock Holiday Park, and turns out he was in Nelson so he personally delivered my water purifier back to me. Again, unbelievably perfect timing of events. Finally around six we realized we should probably begin the long trek back to the hut, especially not knowing whether or not there would be a million people again. I wasn't super keen on climbing back up the super steep slope, so we looked at the map and realized the Dun Mountain Trail would be a slightly longer, but much more gradual ascent route with awesome views of Nelson below.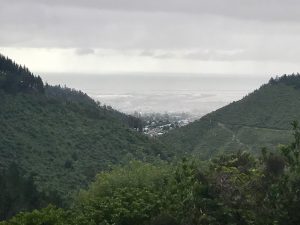 We reached the Coppermine saddle just as darkness started to set in. A light mist began to fall amongst heavy fog, which turned our night hike into a mysterious, eerie, awesome adventure. Walking in darkness was so surreal I felt like I was in a video game. The marker poles were very difficult to follow, merely appearing as faded silhouettes on a dark gray backdrop, but with two sets of eyes we managed to find our way back to the hut around 10:30pm. Fortunately our things were perfectly undisturbed so we quietly found our sleeping supplies, and enjoyed a much needed dinner in darkness on the porch. Nothing like a bread roll and a can of teriyaki chicken to satisfy you before bed after a long, twelve hour day.
Friday, January 19th, 2018
Day 75: Rocks Hut to Starveall Hut, 20km
There was blue sky out this morning! And whaddya know, Rocks Hut actually has an awesome view when you can see! I was woken up super early again, but I think I'll just have to get used to that if we're living hut life. We started the forested track towards Starveall Hut, which stayed in the trees for awhile before popping out onto an exposed ridge.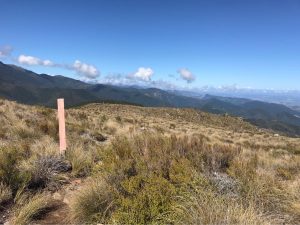 Wanting to take full advantage of the open air, we stopped for a snack break and gulped in the breeze before dipping back into the trees. The whole route to Browning Hut was a gradual descent with a few river crossings that started to irritate my feet, nothing that a quick Lowdie Wrap couldn't fix. From Browning, another short walk by the river led us to Hackett Hut where we found Bill, Jasper, and Adrian. At this point we had descended about 400 meters to the grassy, riverside field,  prepared ourselves for the upcoming 800 meter climb. The afternoon sun was blazing hot, and I was sweating bullets feeling pretty disgusting. Fortunately, the six kilometer trek ahead crossed the river numerous times. I couldn't exist the urge to strip down and go for a swim before beginning the very steep, relentless climb through the forest. 2500 feet of gain in less than two miles is pretty steep. By the time we arrived at the hut, my calves were on fire and I was drenched in humid sweat, but I had zero complaints. We had completed the climb up into the Richmond mountains where we'd get to stay high for the next week. I also love a chance to go uphill for more than thirty minutes! I felt like I was actually working hard for a reward, like I had a purpose and a destination. And I did! The view from Starveall Hut was amazing. The only bad thing that happened was my tent pole totally snapping and becoming useless despite our best efforts. Matt has the tarp at least, which is less than ideal because no bug protection exists, but hey, it's a shelter.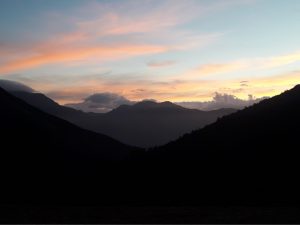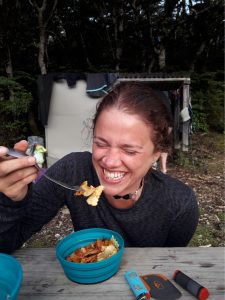 But I couldn't be too upset because I remembered about the beef ravioli and sauce I bought in Nelson yesterday for dinner tonight. Fresh pasta in the backcountry is a fucking treat and it was next level delicious. We ate a second couscous dinner because we're fatties and earned it. The last bit of evening was spent drinking hot chocolate and watching an epic sunset over the hills. I am chuffed.
Saturday, January 20th, 2018
Day 76: Starveall Hut to Rintoull Hut, 18km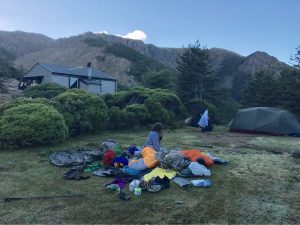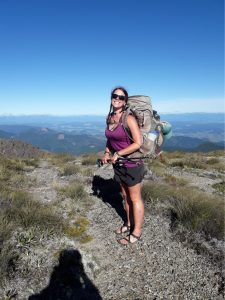 No amount of words will be able to describe how amazing today was. I am FINALLY ACTUALLY FOR REAL in the mountains. The South Island is already like another world. I woke up in a clearing with the first rays of sun shining
on a mountain top. The air was chilly and crisp, the grass was covered in dew, and my stoke level was higher than it's been in weeks. Coffee was made straight from the sleeping bag as I waited for my wet clothes to warm up in the sun. We hit the trail earlier than usual because I was just too excited to spend a day above treeline. Almost immediately we ascended above the trees and got our first taste of the Richmond Range expanding in every direction. We dipped down into a forest for a little while until emerging back out of the trees, eventually arriving at Slaty's Hut.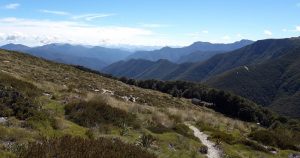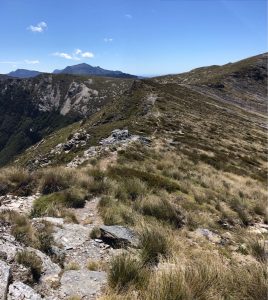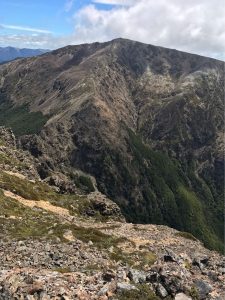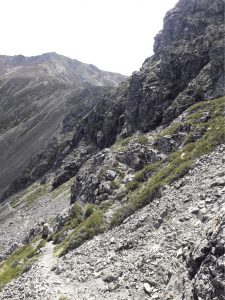 From there, the trail follows an alpine ridgeline with more unbelievable views everywhere before dipping back into the forest. From the forest saddle, we began climbing steeply up roughly 1500 feet to the summit of Little Rintoull, which was significantly above treeline. From the summit, we descended almost the same amount on a steep, scree covered slope before beginning the second 1500 foot ascent to the summit of Mt Rintoull, where we sat for nearly two hours just absorbing the whole thing.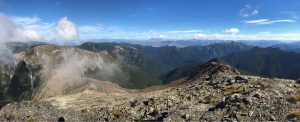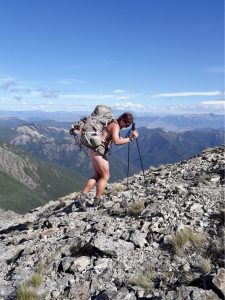 First of all, a whole day of ups and downs ABOVE TREELINE with significant gain on rocky, steep, difficult terrain. Secondly, the weather was ABSOLUTELY PERFECT and we had views with layers of mountains, but also the ocean which is something I've never seen before. I don't think I realized how much I needed the mountains until today, considering the last two months on the North Island really didn't involve many ranges at all. I feel so incredibly energized, happy in every fiber of my being, stoked beyond belief, inspired, grateful, exhausted, centered, and full. The feeling was mutual amongst everyone at camp. If the rest of the TA is like this then BRING IT ON!!!
Sunday, January 21st, 2018
Day 77: Mt Rintoul Hut to Top Wairoa Hut, 22km
One of the perks to living tarp life since my tent broke is definitely making coffee in our sleeping bags, as long as the bug situation is minimal. Per usual, we were the last to wake up and casually made our way out of camp, enjoying the fast moving clouds and awakening mountains. I have been feeling super excited to walk every day, knowing there are actual mountains ahead, not just a road or a pasture. I feel my energy coming back with a deep level of contentment and purpose.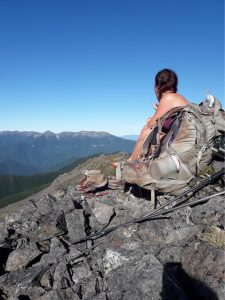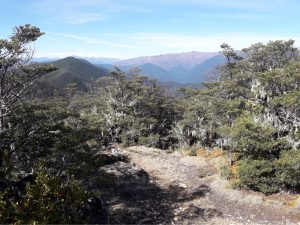 Today's walk began with a short climb up mixed grass and rock to the summit of Purple Top. I soaked up the exposed views before starting the long descent to Mid Wairoa. The trail maintained a mellow grade through a beautiful green forest that was thin enough to still allow sunshine and a light breeze with occasional open vistas. Eventually the track turned into brutally steep switchbacks leading to a swinging bridge right before the hut. Everyone who had been at Rintoul Hut was at Mid Wairoa resting, snacking, and swimming in the river to get a break from the hot sun. At this point the trail family includes: Katie from Germany, Allie from Canada, Hannah and Joe from California, Jasper from Belgium, Chris and Kay from the UK, Bill from Australia, Adrian from France, and another French dude whose name I forget. We're quite the bunch. Anyway, the next hut only has 6 bunks so we decided to continue hiking rather than break halfway through. The trail follows the banks of the Wairoa river on a narrow track with pretty significant cliffs at points, and crosses over the incredibly blue, heavily flowing, picturesque river about eight times. I learned the hard way that stinging nettle is a painful grip coming down a slippery slope. Also, living in the moist, dense roots of massive trees are thousands of wasps. I mean these suckers were everywhere, hovering just above the ground everywhere you look, despite the DOC's attempts to manage the situation with wasp poison boxes. They're just too persistent; it's like walking through a minefield. Fortunately the trail wasn't very steep so the walking was easy, and the beauty and coolness of the river refreshed my body and soul. Unfortunately, two little fuckers stung me, once in the leg, and once right on my toe. And damn wasp stings hurt like a bitch! I've now been stung four times in the last two months which is more than my entire life, but I'm learning. Thank god I'm not allergic, that would be more like a death trap than a mine field, seriously. If I'm being honest, between the wasp stings, the stinging nettle, slipping in my Chacos a hundred times, sore ankles, and probably a bit of dehydration, I was feeling a bit frustrated and defeated. But before I could have a complete meltdown, we crushed one final steep, rocky ascent to arrive at the little orange Top Wairoa Hut.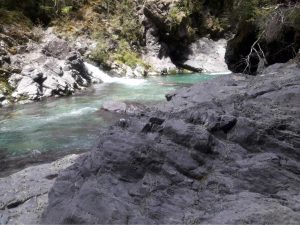 After a quick snack and some water, I headed straight for the river for not just a swim, but a complete bath and a bit of laundry. Today was day seven of the Richmond Range, so some cleansing was much needed. This is how I imagined showering on a thru-hike anyway, so I'm fucking stoked. Soaping up in a pristine river on a hot, sunny day in a backcountry location? Yes please! My spirits were soaring and I felt like a new woman upon returning to the hut to hang my wet clothes on the line. At this point, most everyone had arrived and the hut was getting crammed so we meandered up the hill to find a perfect, almost flat spot to set up the tarp. Not only was the view better, but the spot was more exposed and offered a little space from the crowded hut. Kay came up to hang out for a bit while we tried and failed to eat the accidentally gigantic portion of couscous cooked for dinner. I was so ready for bed, and just when I laid down another seam popped in my pad, creating too big of a lump and forcing me to sleep with my feet hanging off the ends. So this last week alone, my tent, my pot, and my pad have all pooped out on me! Not the end of the world, but definitely frustrating when you buy nice gear and it breaks and you're in the bush and can't do anything to fix it. But oh well! I'm hopeful the next town in two days will be able to help me out. Until then? Sleeeeeeeeppppp!!!
Monday, January 22nd, 2018
Day 78: Top Wairoa Hut to Porters Creek Hut, 17km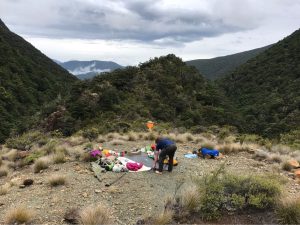 Talk about a leisurely morning…we woke up at 9, made coffee, stretched, enjoyed the misty peaks, and slowly packed up our gear, knowing only seventeen comparatively easy kilometers separated us from the next hut. My watch read 11:30 by the time we hit the trail, probably the most casual start time of the trip yet. The weather blessed us with gray skies, cool temperatures, yet good visibility as we began the rocky ascent towards Mt Ellis. I wasn't sure what to expect for the 800 meter climb after the long, steep ascents over the last few days, and was pleased to find myself gradually gaining elevation as I traversed the open mountainside.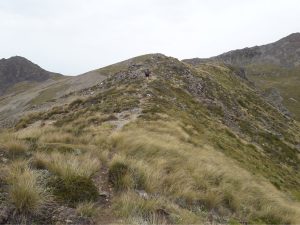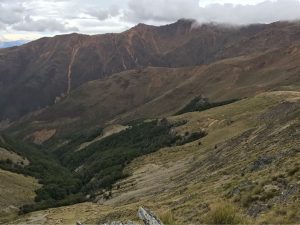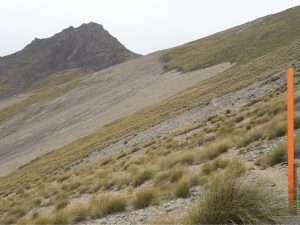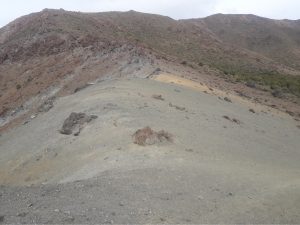 I could see down into the lush valley to my left, and saw red, green, and brown ridges and peaks everywhere else. The trail contours just around the summit of Mt Ellis where we stopped for a snack break and views before starting a beautiful, forested descent with a few river crossings and a short uphill climb to reach Hunters Hut. A handful of our friends were posted up inside the cozy little cabin, so we stopped to socialize for a bit. Eventually we continued towards our destination as the trail undulated over ridges and through valleys at a mellow grade. We were mostly in open forests or on steep dirt tracks climbing what looked like a giant rock slide zone. A few hours after leaving our friends, I spotted the orange roof of Porters Creek Hut in the distance. A short thirty minutes later we had crossed the green valley, marveled at the sun beginning to set, and were greeted at the hut by more friends and lots of curious bumblebees. There are only four of us here which is a peaceful change of pace from the last few days, even though our little family through this section was pretty epic. I'm a little sad to be ending the Richmond Range adventure because this place is beautiful, but I am sooooooo unbelievably stoked for two more months of mountains. Life is too good.
Tuesday, January 23rd, 2018
Day 79: Porters Creek Hut to St Arnaud, 31km
Let's see what happened today…Bill, Adrian, and Elie departed early, leaving Matt and I by ourselves to welcome the sun and drink coffee. Our other friends who had stayed at the last hut arrived at Porters before we were even packed up, because I guess most people like to get an early start on the day. There's for sure a time and a place for an early start, but today was not that time. Not for me anyway. The last few days I have been taking the lead, which forces Matt to slow down and enjoy the scenery more, and also helps me not feel like I'm constantly running to catch up. But I also know sometimes the crazy man needs to let loose. So I wasn't the slightest bit surprised when he wanted to take off and just meet me at the Red Hills Hut. As Matt bounded away across the rocks, I too was feeling pretty fucking awesome on this beautiful sunny day, and definitely pushed my pace into the sweet cardio zone as I cruised up and down through the river valley.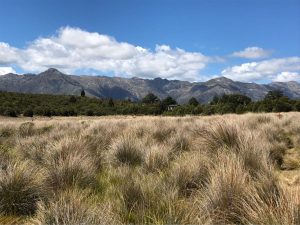 The Red Hills Hut is located in a gorgeous valley with a pristine mountain backdrop, where I found Matt laying in the grass surrounded by at least four different bags of assorted snacks and candy. A pretty standard scene in my life these days. Multiple other TA walkers showed up while I was stopped for a snack, so I hung out for awhile to socialize. Most people took the shorter 4WD track straight down to the road, but I opted for the longer forest track with a slight uphill before the final descent into town. The weather was so perfect and I was feeling way too good to just be done hiking so I set off by myself. The track climbed up a few hundred meters through a beech forest, offering awesome views of the St Arnaud range, Rotoiti Lake, and the whole valley below.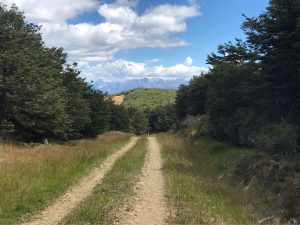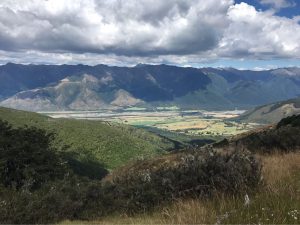 I eventually hit another 4WD road that led steeply down to the highway. No part of me wanted to walk eight kilometers down a state highway during the hottest part of the day, so I stuck my thumb out and had a ride within minutes. Our room at the Travers-Sabine Lodge was cute, clean, and perfect for a rest day. After a quick shower, I headed straight to the lodge for wedges with Matt and some other friends. The town of St Arnaud is super small and cute. They have a tiny general store with a café attached, the Travers-Sabine Lodge, a hotel lodge with a restaurant and bar, another small breakfast café, and that's about it, so I wasn't surprised everyone we knew wound up at the same place. Eventually bedtime rolled around, but first I had to marvel at the incredible sky of stars, complete with an epic view of the Milky Way, and wonder how I got to be so lucky.
Wednesday, January 24th, 2018
Day 80: Zero Day in St Arnaud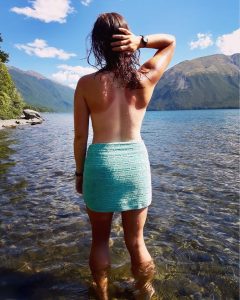 Wow I really can't believe a whole month has already passed since Christmas. Time is flying and there's nothing I can do to slow down the minutes. The only solution is to truly make every second count! Which is why I slept in this morning, checked into the cyber world for awhile, and strolled down the street to our favorite lodge to roast in the sun while devouring a mega brekky of bacon, sausage, potato, egg, mushroom, tomato, toast, and coffee. I picked up some much needed but overpriced sour squirms from the general store before returning to the lodge for an awesome Facetime sesh with my mom and grandma, Dandy. After throwing some laundry in, I was pretty much stuck in the room because I don't have any extra clothes to wear whilst my stinky layers get washed, so I utilized the time to blog, send emails about my broken gear, and catch up with the outside world. The laundry finished just in time to meet our friends Hannah and Rob at the Alpine Lodge for a second round of wedges because you can never have too many fried potatoes. Chris and Kay were also at the lodge, and the next thing I knew I was sitting at an outdoor table with at least a dozen TA hikers! The trail passes straight through St Arnaud so it would make sense that anyone hiking the TA would have walked right by us. I was really digging the sense of community growing around the trail, but also really wanted to go swimming in the lake before the blazing sun disappeared. So we bid adieu to all of our friends and headed down to Lake Rotoiti for an early evening dip. The sun was still blazing which made the perfectly cool water feel unbelievably refreshing, and the mountains jutting out from the perimeter of the lake made for picture perfect scenery.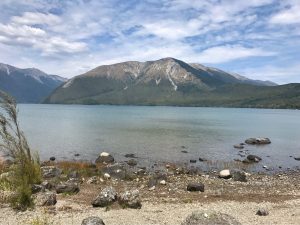 Eventually we decided to munch on some honey soy chicken chips, which quickly drew the attention of the nearest duck family that clearly had already been habituated to human activity considering the few inches of separation between us and their beaks. Sure, the ducks were perhaps a little too close for comfort, but they were also pretty cute so I let it slide. That is until the giant, black, long-necked geese also decided to join the party. Something about two massive birds standing less than a foot away from me, stretching out their elongated necks, was hilariously unsettling. Fortunately they disappeared with just a smidge of encouragement, but the whole scene was pretty entertaining. I was just trying to eat my chips dude. Anyway, 6:30 rolled around so we headed back to Travers-Sabine. I called Clea and whatnot while Matt cooked up some tasty veggie stir fry, per usual. Nothing crazy happened after dinner because I went to sleep. The end.