Sunday November 5th, 2017
The deceptively complex task of transporting myself from Colorado to the start of TA in Cape Reinga became a beastly 6 day journey of its own variety. You've already heard about the sky adventures that landed us in Auckland, which happens to be a beautiful, clean, sleek, oceanfront city with an obscene amount of dank Asian food and expensive stores. Our original plan was to spend a few days in Auckland to clean up last minute details and ship ourselves resupplies and a bounce box. We soon realized that having arrived late Friday afternoon, we would have to wait for the post offices to open Monday, which meant we couldn't catch the bus north until Tuesday. Neither of us are really city people at all, so we weren't totally amped on the idea of 3 full days moseying around Auckland, despite it being truly pretty enjoyable and calm for a city. Regardless, life happens so we set out Saturday morning to crush some errands. We got our backcountry hut permits and fuel canisters at Bivouac Outdoor, bought a new power bank, printed out resupply information, unsuccessfully tried to find a mini version of Yahtzee, and looked at expensive diamond jewelry because why not. After devouring some phenomenal Thai yellow curry, we returned to the hostel. We had only spent one afternoon in the city and were talking about alternative, faster shipping options within minutes. We knew the trail would pass back through Auckland after 600km, and further research revealed we could easily find resupply points along that stretch. Which meant we could wait to send ourselves resupply packages until we returned to Auckland. Which meant we could catch the bus Sunday and shave off 2 city days. But what about our bag of extra clothes? Some post offices accept packages "Poste Restante" which means they'll hold a box for up to 2 months. You pick up your bounce box at the post office and ship it, or bounce it, to the next post office to pick up 2 months later, and so on. Determined to start hiking ASAP, I found the National Mini Storage in Auckland which happened to have a backpacker's locker available for a reasonable price. Boom! Problem solved. Sunday bus tickets were purchased immediately as our stoke levels raged. On the walk back from the storage place, we cruised by an "inner city backyard" where various groups of people were serving free dinner! And not like in a food kitchen. Apparently there's just a community of people who run a garden and serve free home-cooked dinner to the city sometimes. They also run a community fridge where people can bring unwanted food and take whatever might be there. I found the whole concept to be inventive, inclusive and resourceful. Get it Auckland! We went to bed with full bellies, clear consciences, and ready-to-go packs.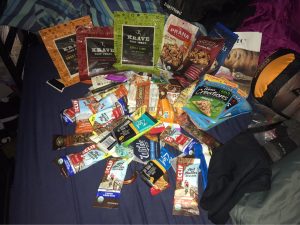 I was so excited we had found a resupply solution that would get us on the road 2 days sooner that I totally forgot about the 40+ assortment of granola/energy bars, beef jerky, and tuna packets I had brought from the states. I couldn't possibly imagine throwing away perfectly tasty American snacks, but I knew keeping all of them would come with a cost. A cost of about 10 pounds of extra weight for the first stretch of the trail. Between my passionately deep love for beef jerky and being on a tight budget for the next few months, you better believe I chose to keep my meat and granola. So we set off to catch the bus Sunday morning with heavy packs and huge smiles.
The InterCity bus from the Sky Bus Terminal in Auckland took us to Kerikeri, where we hopped on another bus to Kaitaia. 6 hours through beautiful, lush, green, sheep-filled countryside flew by as we chatted with a Danish pair and a Swedish pair both trekking TA. Our level of excitement soared so high I'm surprised the roof didn't bust straight off the bus. Arriving in Kaitaia we met another thru-hiking couple who were clearly dominating the ultra-lite game. Their tiny little packs made me incredibly aware of how heavy mine was going to be, and how happy I would be eating my Maple Bacon Beef bar in a few days. So whatever, consider it weight training. I had bigger fish to fry than standing around comparing pack sizes, like how to get from Kaitaia to Cape Reinga when public transit doesn't exist between the two. You can sign up for a guided tour of Cape Reinga and pay a stupid amount to play tourist for an hour, or you can stick your thumb out and hope for the best.
The woman at the storage place had given us the motherly warning to be careful as we hit poverty outside of Auckland. Having participated in service trips, one in the countryside of Costa Rica and one in a shanty town outside of Lima, Peru, I have seen consolidated communities of legitimate, extreme poverty. Compared to the obvious wealth in the clean, well-maintained city of Auckland, the spread out homes in the Northland countryside certainly share a simpler, less affluent character. But that said, hitch-hiking wasn't sketchy in the slightest and turned out to be mad easy. Perhaps we had the small advantage of being two decently cute, still relatively clean American girls, or maybe everyone here is just super friendly and helpful. Literally everyone I have met, walked by, or looked at so far in New Zealand has been full of genuinely happy smiles and positive energy, it's incredible. I haven't been to the DMV here yet, but I bet if I did the employees would turn my frown upside down.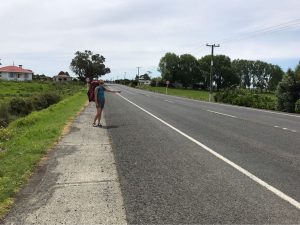 Anyway, we walked for about 10 minutes before a black truck driven by a seasoned Northland Kiwi man pulled over and delivered us a few miles up the road. 5 minutes later, we hopped in with a Persian guy on his 8th year in NZ. He dropped us off at a convenient store where naturally I bought some candy and Clea checked the tide schedule for our upcoming trek. Walking maybe 10 minutes up the road from the store, our happy homie Pip swooped us. A giant, middle-aged Maori dude with tattoos, sweatpants, a leather jacket and the funniest little red leather cap atop his curly black hair, Pip chained-smoked hand-rolled cigarettes and rambled about the government. We could hardly understand a word of his mumbled Maori-accented English, but regardless enjoyed his company and appreciated the ride 80km closer to the Cape. We quickly managed to hitch the next ride with one of the first cars to pass. Two young German travelers let us and our packs squeeze into the backseat. The language barrier was rough, but we tried to converse with the curly haired dude wearing a v-neck, nice jeans, and black Thug Life hat until we reached our destination.
A short downhill walk later, we arrived at Tapotupotu Bay. Pronounce that however you want, I have most definitely been butchering every Maori pronunciation, it's embarrassing. Tapotupotu Bay is a gorgeous beach cove with campgrounds and bathrooms. Campsites here are totally different than the US. Typically in America, designated camping areas consist of individual tentsites with a fire ring and obvious place to pitch your tent. Here, a campground is just an open field with one common shelter so you can setup anywhere and share the structures. I'm super into the open system, it's conducive to a camping community rather than just a private camping experience. Still, I'm very much looking forward to more private backcountry overnights!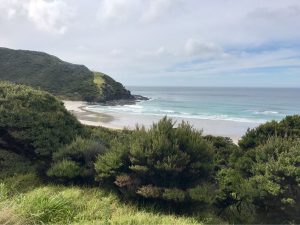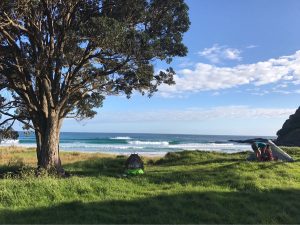 Clea and I splashed around in the ocean for awhile, giggling like toddlers. Pure joy. I set off to explore some nearby rocks while Clea meandered down the beach. Teeny tiny little snails covered the rock surface along with colorful shells and muscles. I noticed this pink pigment that I thought might be some cool mineral, but upon closer investigation, the substance was identified as pink bird shit, which made sense when I saw the hundreds of birds flocking on the nearby rock. After awhile my bare feet started to hurt so I turned back. I sat down with Clea and we talked about why we're here and set some personal goals for this journey. I'm lucky to have a friend and adventure partner who encourages finding a deeper purpose to things besides just having fun. She puts meaning to life's events and inspires me to be the most genuine version of myself. Yayyyy Clea!!
Soooooo after all that, we ate Ramen, stretched, and went to sleep to the sound of the ocean. When we woke up tomorrow we'd be a short hour walk away from the true beginning of Te Araroa.